MARTINI WEENIES
Raindrops on roses and whiskers on kittens
Bright copper kettles and warm woolen mittens
Brown paper packages tied up with strings
These are a few of my favorite things...
NOT!!!
Two of my favorite things are a dry martini and a warm wiener. So it stands to reason that there couldn't be anything better than combining the two: thus we have
COCKTAIL WIENERS!
One cute wiener in a martini glass
Artist: Andrea
Even better, for those who want a double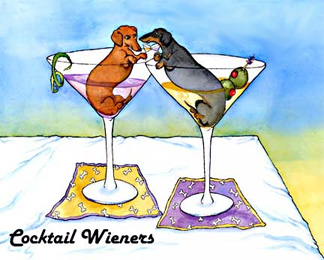 Artist: Terry Pond
This time, a double made one fall to the floor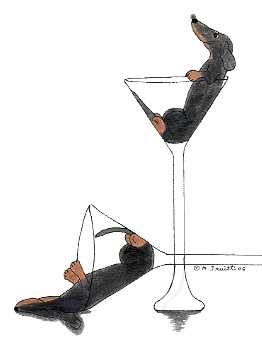 Artist: M Truitt
Lots and lots of martini weenies
Artist: Diana Digonis
When cocktail wieners gather...
Artist: Leigh Rubin
IS THERE ANYTHING MORE ROMANTIC THAN MARTINIS AND WIENERS?
First, start with the perfectly mixed drink.
Source: Hot Diggity Dog collection
Find a romantic spot for a tete a tete.
Artist: Kimberly Helgeson Sams
Martinis often lead to greater closeness.
Artist: Randal Parker
Finish off the night relaxing in the hot tub.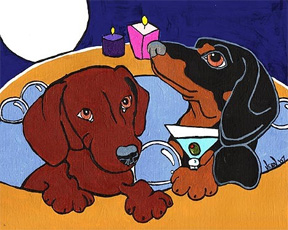 Artist: Vern