WHICH DOG WILL COME OUT SMELLING LIKE A (MONT)ROSE?
A bevy of adorable dogs converged on Honolulu Avenue to participate in the Montrose Oktoberfest's "Best Dressed Dog" contest on October 1, 2005. Pictured directly below are the three finalists. Which one would you choose as the winner?




Will it be (left to right) Chip, the Dachshund? or Jimmy the Dachshund? or Brutus the Chihuahua?
Was it Chip, dressed as a Bavarian Fraulein?
A worthy contender:
Andrew was gourd-eous as a Halloween pumpkin.
Or Jimmy, the best of the Wurst?
Another contender:
Daisy Mae brought a royal touch to the contest.
Or did the crowd go bats for Brutus?
And another contender:
Meatball was a rootin' tootin' puglicious contestant.
AND THE WIENER IS...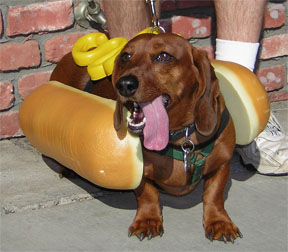 Jimmy didn't need the sauerkraut, onions or ketchup. He proved that all he needed to cut the mustard was the yellow stuff, making him the Best Dressed Dog. To finalize the image, his tongue hanging out proves he's truly a Hot Dog.